This page is the brochure for your selected program. You can view the provided information for this program on this page and click on the available buttons for additional options.
LAW: Galway Study Abroad Plus Externship
Galway, Ireland
(Outgoing Program)
Featured
Fact Sheet: - unrelated header
Fact Sheet:
Program Description:
Program Description:
About The Galway Plus Externship Program: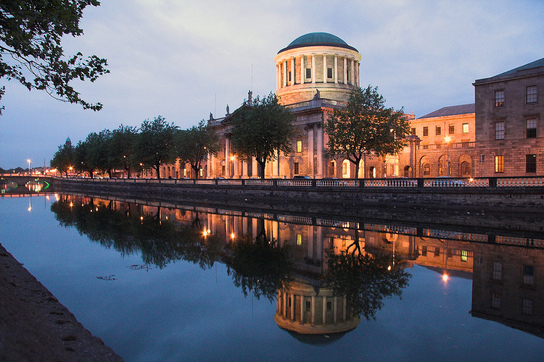 This externship program is specifically for Suffolk University Law students participating in Suffolk's summer study abroad program at the National University of Ireland at Galway seeking to pursue an externship in Ireland for a period of 6-8 weeks following the study abroad program. Accordingly, students must apply (i) to the Galway study abroad program, in addition (ii) to this "plus" externship program. The deadline for the externship application is Feb. 20.
Placements:
Students work full-time under the supervision of an attorney in the placement organization, as well as by faculty supervisor Christine Bustany. The externship placements will be predominantly in the public interest arena, including non-profits and government-related organizations. To the extent possible, our Galway affiliates will place students in organizations in Ireland corresponding with the students' respective practice areas of interests noted on the application.
Among other areas, past placements have included rights-based work associated with immigrants, women, children, disability, minorities, as well as dispute resolution, the environment, and international and comparative law. Practice areas are not limited to the aforementioned list, so students should indicate on their application their areas of interest for the externship.
Summer 2017 Ireland Placements:
• Centre for Disability Law and Policy, NUI, Galway, Ireland
• Community Law and Mediation, Limerick, Ireland
• Law Reform Commission, Dublin, Ireland
• Rape Crisis Network Ireland, Dublin, Ireland
• Immigrant Council of Ireland Law Centre, Dublin, Ireland
• Children's Rights Alliance, Dublin, Ireland
• GLANLaw, Galway, Ireland
Academic Credits:
Externships are for three academic credits. One credit is earned for each 45 hours of legal work in the field. Credit for the field placement work is received on a pass/fail basis.
The three credits for the externship would be in addition to the three credits of coursework pursued as part of the Galway study abroad program. So students would complete six credits in total.
Academic Coursework:
In addition to the three courses completed as part of the Galway summer study program, students will attend a mini-seminar in mid-May in Boston to help prepare for their externship experience taught by Prof. Bustany. Further details on this seminar to follow.
During the course of the externship, students will be required to complete weekly work logs and reflection papers, among other assignments. The faculty supervisor for the program is Prof. Bustany.

Approximate Dates:
Boston: Participating students attend a not-for credit mini-seminar in mid-May in Boston, Introduction to International Practice to prepare for the externship experience.
Ireland: Students are to arrive on May 24 for the Galway summer study program, which lasts for two weeks (June 9). Students then begin their externships for a period of 6-8 weeks.
Eligibility:
First and second year JD day students and second and third year evening JD students with a GPA of 2.67 and in academic good standing. Students with a lower GPA may submit a petition to Dean Kim McLaurin requesting a waiver so as to participate in the program.
Financial Support:
Selected students will receive a $3000 award ($1600 in the form of a scholarship covering the cost of 1 (one) academic credit, and $1400 in the form of a stipend), with the possibility of additional funding up to $500. Stipends will be funds given directly to students to help defray the cost of travel and living. The award is contingent upon the satisfactory fulfillment of the program obligations. Students who do not meet all program requirements in a timely fashion breach the terms of the award, and will forfeit the balance of the award and will be asked to return any funds already disbursed.
Students may find that their stipends are taxed and students will be responsible for any and all tax liability incurred on their stipends. No taxes will be withheld from the stipend by the University for students who are U.S. Citizens and provide a valid SSN to the University. These students will receive a 1099 form from Suffolk University in early 2019 and will be responsible for paying any and all taxes on their awards. Awardees who are not U.S. citizens or permanent residents, depending on their country's tax treaty with the United States, may find that their stipends are taxed, as well, and the University will withhold taxes.
U.S. citizens and permanent residents participating in an externship and enrolled at least half-time (receiving a minimum of 3 credits) may be eligible to receive Federal Loan funding. Visit the financial aid office for eligibility and application information. The Financial Aid application is available beginning January 1, 2018.
Note: Receipt of the award can affect the amount of financial aid students are eligible to receive. The Student Financial Services Office will be advised of all stipend and scholarship support awarded to students. Funds must be considered when determining eligibility for additional financial aid programs. For questions regarding financial aid, please contact your financial aid counselor. Contact information is available at http://www.suffolk.edu/law/admission-aid/financial-aid/20973.php.
Stipends will be disbursed in two equal amounts. The first tranche would be disbursed on or around May 20, after students have (i) confirmed placement, (ii) satisfactorily completed program prerequisites, (iii) signed a letter of intent to return to Suffolk in Fall, (iv) registered for summer term, and (v) provided receipt of plane ticket purchase. The second tranche of the stipend would be disbursed on or around June 25.
Tuition:
The scholarship award covers partial tuition costs ($1600) for the externship program, and students are responsible for the remaining tuition associated with the academic credits for the externship in accordance with Suffolk Law School's summer tuition rates. Tuition for the summer externship is at a per-credit cost ($1564/credit). Tuition is due May 4, 2018.
Note:
Often pursuing academic credit in the summer may have particular financial benefits for some JD students (specifically, significant reductions in tuition costs by becoming a "part-time" student in their final semester of law school) if students plan ahead. Students are strongly encouraged to consult with the Financial Aid Office and the Office of Academic Services (Dean Cove) to see if the potential financial benefits (i.e., reduced tuition costs) may be applicable to their circumstances and to learn further details.
Expenses:
Participants are responsible for travel costs to and from the externship and all other incidental expenses connected with their travel and living abroad.
A student cannot simultaneously get academic credit and compensation for an externship and these externships are not salaried positions.
Health & Safety:
Participants in the program will be required to maintain appropriate health insurance during the period of the program. Additionally, Suffolk University requires all its students traveling abroad to be covered by On Call International, emergency assistance membership program. For information about On Call International, please visit http://suffolk.mysearchlightportal.com/.
Housing:
Students placed in externships in Dublin may find housing at the University College Dublin, which is located near the southern side of the city, in Belfield. Further details on this housing arrangement to follow.
Securing other forms of housing is the responsibility of the student. Nevertheless, the National University of Ireland at Galway as well as the placement organization, and Prof. Dillon are often able to provide some assistance, typically in the form of providing contacts or input with respect to location. Students may also review the SULS "housing" database, which includes information on how previous Suffolk students secured housing in the International Legal Practice programs, including the Ireland program. Students from last year's Ireland program may also be able to provide additional insights concerning housing options.
QUESTIONS ABOUT THE EXTERNSHIP PROGRAM:
contact Prof. Bustany (cbustany@suffolk.edu). For questions about the Galway study abroad program, contact Prof. Dillon (sdillon@suffolk.edu).
APPLICATION DEADLINE: Feb. 20, 2018.
APPLICATION REQUIREMENTS:
Students are required to submit the following application items as part of their on-line application:
• Completed Application Form
• Completed Waiver and Release form
• CV or Resume. Students are advised to take advantage of SULS's Professional & Career Development Office to have their resumes reviewed/critiqued prior to applying.
• Cover Letter (professional and academic qualifications as well as why you are seeking an externship of this kind and what you will bring to such an internship.) Letter may be addressed to "Dear Sir or Madam." Students are advised to take advantage of SULS's Professional & Career Development Office to have their cover letters reviewed prior to applying.
• Two References from a Law Professor or Professional Supervisor who will be able to address your qualifications. (Include full names, associated title, nature of relationship, and contact information).
• Law School transcript (unofficial is fine).
Application Submission Instructions:
• Completed applications are due by February 20, 2018. Students apply online.
Dates / Deadlines: - unrelated header
Dates / Deadlines:
There are currently no active application cycles for this program.